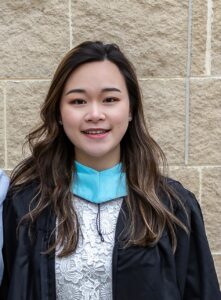 Hsien-Chih (Caroline) Lin, LPC, CRC
Caroline Lin is a Licensed Professional Counselor (LPC) at MAHA who aspires to provide culturally sensitive care for Asian and Asian-American communities in Chicago. She graduated from Pennsylvania State University (2019-2021) with an M.Ed. in Clinical Rehabilitation and Mental Health Counseling. Caroline also holds a certificate of Clinical Rehabilitation Counseling.
With a multicultural background of growing up in Taiwan and attending school in the USA, Caroline is interested in serving a very diverse community in Chicago. She applies Cognitive Behavioral Therapy (CBT), Dialectical Behavior Therapy (DBT), and Motivational Interviewing (MI) frameworks to work with clients and provide Trauma-informed care that meets client's needs. Caroline has experience working with a wide range of populations, from children under 6 years old to elderly. Her areas of expertise include anxiety, depression, specific phobia, stress, and identity issues.