Who We Are
McKinley Park Underage Drinking & Other Substances Prevention Coalition (McK-UDOS) is a five-year Drug-Free Community program directed by the White House Office of National Drug Control Policy (ONDCP), in partnership with the Substance Abuse and Mental Health Services Administration (SAMHSA). We are funded by the Drug Free Communities Support Program (5-year grant from 2015) and STOP Act (3-year grant from 2017).
Our Mission
Our mission is to prevent underage drinking and marijuana use among youth in the McKinley Park neighborhood of Chicago through building partnerships, assessing the community's needs and resources, developing strategic plans, and implementing and evaluating the coalition's activities for awareness, advocacy, education, and sustainability.
Our Vision
To promote a healthy and drug-free environment for our children and families in McKinley Park of Chicago.
Our Goals
Build relationships with local communities, businesses, organizations, schools, parents, youth, law enforcement, faith-based organizations, healthcare professionals, volunteers, media, and other stakeholders.

Prevent or reduce underage alcohol consumption and marijuana use among the Hispanic and Asian youth in the community by increasing perception of risk, and reducing availability of substance to our youth population.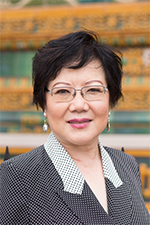 Hong Liu, Ph.D
Executive Director
Hong Liu is the Executive Director of the Midwest Asian Health Association (MAHA). She came to the U.S. in 1988 and received a Master's degree in Political Science in 1989 and a Ph.D. in Public Policy Analysis in 1994 from the University of Illinois at Chicago. In the past 20 years, Dr. Liu has been working diligently toward improving health and quality of life for Asian populations. She is well recognized as an advocate and community leader locally and nationally in the public health and community health field. Dr. Liu is a member of several boards and advisory councils , including the State Health Improvement Plan (SHIP) Council appointed by the Governor of Illinois, and the Chicago Community Development Advisory Council appointed by the Mayor of Chicago. She has received numerous awards for her dedication to public health, a few of which include the Public Health Advocacy Award from the Illinois Public Health Association; the Excellent Professional Award from Illinois Secretary of State, Jesse White; and the Community Service Excellence Award from the Asian Coalition of Chicago and the Chinese American Association of Greater Chicago.
Vernalynne De La Rosa, M.S.
Program Coordinator
Vernalynne De La Rosa completed her graduate work at Wheaton College in 2007 with a Masters degree in Clinical Psychology. She is currently in the process of obtaining her licensure as a Licensed Marriage and Family Therapist (LMFT). Vernalynne has worked with individual couples, children and families. Her experiences in Central and South America, Asia, Europe and Africa have enhanced her talents in cross cultural competency.Trilingual in English, Spanish, and Tagalog, she is highly skilled in providing therapy for families dealing with acculturation issues. Vernalynne is dedicated in helping people become self-aware and creating healthy relationships through effective communication. Her experience working clients with substance abuse issues has also given her an ability to empathize with clients. Vernalynne is excited to be use her passion to educate and support youth and families as the Substance Abuse Prevention Program Coordinator position. 
Ricky Lam
STOP Act Program Coordinator
Ricky Lam has more than 20 years of experience working with adult job seekers and youth participants in the community. Ricky helps job seekers look for permanent employments and eventually reach self sufficiency. He also assists at-risk youth participants to overcome academic, social, and family issues so that they will eventually obtain their high school diplomas and either move on to post secondary school or enter the workforce. Ricky graduated from University of Illinois at Chicago with a Bachelor Degree in Human Resource Management with both College and Department Honor.Ricky is also very active in community activities. He is an active member of Ping Tom Park Advisory Committee and was a former committee member of Hospitality Fund II Advisory Committee, City of Chicago Equity Council, Department of Human Relation Asian Advisory Council, and Equal Voice Coalition Council.
Jun Suh
Financial Manager
Jun Suh has a Bachelor's degree in Business Administration with a concentration in Accounting and Finance and is a licensed Certified Public Accountant (CPA). He has 12 years of experience in non-for-profit organizations assisting programs on their financial and accounting needs. Jun also has 5 years experience working for a CPA firm which has allowed him to be proficient in understanding the ins and outs of a business. With this experience, Jun has worked at MAHA providing his expert knowledge since 2009. He has successfully maintained balanced internal control systems and prepared required document to be compliant to the City of Chicago, federal and state government requirements. He has considerable experience with funds from State of Illinois and City of Chicago, and a wealth of experience preparing and reporting budgets for federal and state grants.
McKinley Park Advisory Council
McKinley Park Civic Association