Who We Are
McKinley Park Underage Drinking & Other Substances Prevention Coalition (McK-UDOS) was founded as a coalition in 2014 under Midwest Asian Health Association (MAHA). McK-UDOS recevies funding from the five-year Drug-Free Community (DFC) Support Grant Program directed by the White House Office of National Drug Control Policy (ONDCP), in partnership with the Substance Abuse and Mental Health Services Administration (SAMHSA) and later transitioned to the Centers for Disease Control and Prevention (CDC) in 2020. We are funded by the DFC grant from 2015-2020 and from 2020- 2025 and the STOP Act from 2017-2021.
Our Mission
Our mission is to prevent underage drinking and marijuana use among youth in the McKinley Park neighborhood of Chicago through building partnerships, assessing the community's needs and resources, developing strategic plans, and implementing and evaluating the coalition's activities for awareness, advocacy, education, and sustainability.
Our Vision
To promote a healthy and drug-free environment for our children and families in McKinley Park of Chicago.
Our Goals
Build relationships with local communities, businesses, organizations, schools, parents, youth, law enforcement, faith-based organizations, healthcare professionals, volunteers, media, and other stakeholders.

Prevent or reduce underage alcohol consumption and marijuana use among the Hispanic and Asian youth in the community by increasing perception of risk, and reducing availability of substance to our youth population.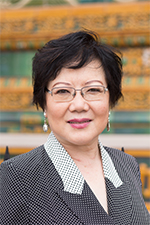 Hong Liu, Ph.D

Executive Director
Hong Liu is the Executive Director of the Midwest Asian Health Association (MAHA). She came to the U.S. in 1988 and received a Master's degree in Political Science in 1989 and a Ph.D. in Public Policy Analysis in 1994 from the University of Illinois at Chicago. In the past 20 years, Dr. Liu has been working diligently toward improving health and quality of life for Asian populations. She is well recognized as an advocate and community leader locally and nationally in the public health and community health field. Dr. Liu is a member of several boards and advisory councils , including the State Health Improvement Plan (SHIP) Council appointed by the Governor of Illinois, and the Chicago Community Development Advisory Council appointed by the Mayor of Chicago. She has received numerous awards for her dedication to public health, a few of which include the Public Health Advocacy Award from the Illinois Public Health Association; the Excellent Professional Award from Illinois Secretary of State, Jesse White; and the Community Service Excellence Award from the Asian Coalition of Chicago and the Chinese American Association of Greater Chicago.
McKinley Park Advisory Council
McKinley Park Civic Association