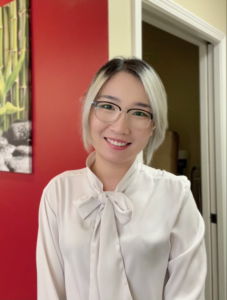 Xueqi (Shaw) Xiao, M.A., LPC
---
---
Shaw Xiao (Xueqi) is a Licensed Professional Counselor (LPC) at MAHA specialized in art therapy who aspires to provide culturally sensitive care for Asian and Asian-American communities in Chicago.
Shaw graduated from Southern Illinois University Edwardsville (2018-2020) with an M.A. in Art Therapy Counseling and has a bachelor's degree in Psychology at South China Normal University. Combining her background of being born and raised in China with five years of study and integration in the United States, she integrates various theoretical frameworks based on clients' needs with a multicultural lens under trauma-informed practice. Shaw has experience working with a wide range of populations in various settings and enjoys being the additional support fostering self-awareness, growth, and healing from trauma, especially utilizing creativity.
Shaw profoundly believes in the healing power that art can bring. "Attending Art therapy does not require professional art skills. It is used to improve cognitive and sensorimotor functions, foster self-esteem and self-awareness, cultivate emotional resilience, promote insight, enhance social skills, reduce and resolve conflicts and distress, and advance societal and ecological change."