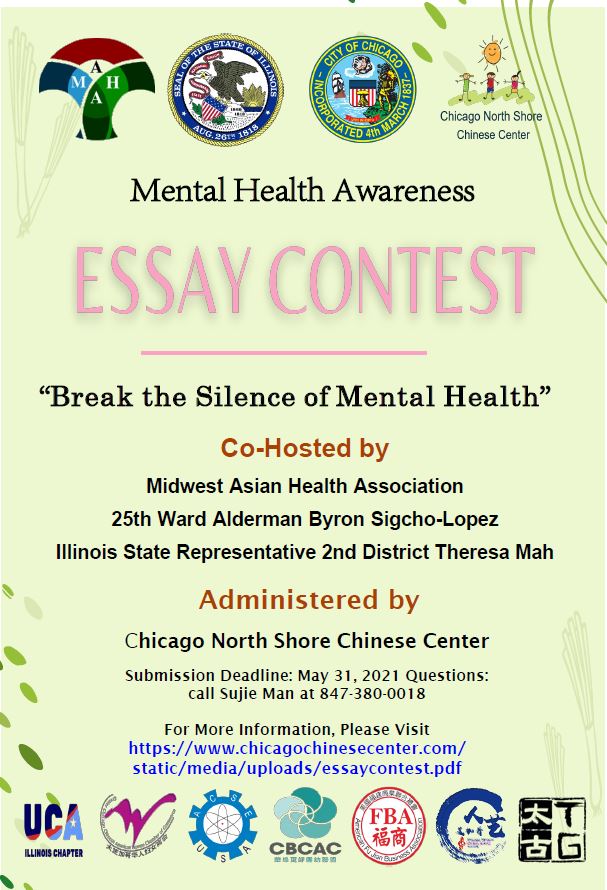 Purpose:
This contest aims to provide a platform for teens to express opinions and ideas associated with mental health and life challenges. Through the contest, we want to develop an understanding of the stigma associated with mental health among adolescents, and also learn the barriers faced by the youth to speaking up about the issues and challenges.
Ideas for essay topics could include:
Break the silence and reduce the stigma about mental health
The role of parenting in building good mental health in children
Positive impact of friendships and relationships on mental health
Innovative approaches to reduce communication barriers between immigrant parents and children
Every Day Begins with a Hope
Tell a story about a hero with mental health challenges
Creative solutions that can help reduce stigma about mental health
COVID-19 impact on youth mental health and suggested changes that could prevent the mental health issues.
Speaking up about mental health and why it is important?
Creative ways to start a conversation about mental health or related stigma
Awards:
First prize (1): $300
Second Prize (2): $200
Third Prize (3): $100

General Submission Guidelines:
Poetry, fiction, prose, drawing and films are not allowed to enter this contest. Please submit creative Nonfiction.
CREATIVE NONFICTION: Creative writing with a factual basis, between 1500 and 2000 words, is a must. Examples can include diary entries, autobiographical writing, letters, personal essays and literary journalism.
The closing date for entries is midnight on May 31, 2021. We cannot accept any entries received after this date. Please read the submission guidelines below for full details on how to enter and ensure you complete the entry.
Submission guidelines (please read before submitting):
Entry to this contest is free.
Entrants must be high school students.
Entries must be typed and in English.
Entries must be the entrant's own original work and must not have previously been published either in print or online.
We will accept entries written at any time as long as they have not previously been published or earned an award
We can only accept entry by email:
Entrants should send a single email with their full name, phone number and entry title as the subject to [email protected] by midnight on May 15, 2021.
Entries must be submitted as WORD attachments to the email. NO Google doc sharing is allowed. NO PDF or picture file is allowed. The entry should not be typed in the body of the email. It MUST be an attachment. Attachments should be compatible Word files only.
Please name each file with student's first name and last name and the title of the entry. Do not put name, initials or anything that may identify you on any file except the google entry form and in the subject bar.
Here is the google form link: https://forms.gle/6ov27vFX9WLaPQE49 . When you are ready to email your entry to us, then submit your google form immediately. Emailing your entry and submitting google form should be done one after another.
For further information, please contact:
[email protected] or 847-380-0018