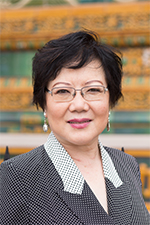 Hong Liu, Ph.D - Executive Director
Dr. Liu is the Executive Director of the Midwest Asian Health Association (MAHA). She came to the U.S. in 1988 and received a Master's degree in Political Science in 1989 and a Ph.D. in Public Policy Analysis in 1994 from the University of Illinois at Chicago. In the past 20 years, Dr. Liu has been working diligently toward improving health and quality of life for Asian populations. She is well recognized as an advocate and community leader locally and nationally in the public health and community health field. Dr. Liu is a member of several boards and advisory councils , including the State Health Improvement Plan (SHIP) Council appointed by the Governor of Illinois, and the Chicago Community Development Advisory Council appointed by the Mayor of Chicago. She has received numerous awards for her dedication to public health, a few of which include the Public Health Advocacy Award from the Illinois Public Health Association; the Excellent Professional Award from Illinois Secretary of State, Jesse White; and the Community Service Excellence Award from the Asian Coalition of Chicago and the Chinese American Association of Greater Chicago.
President - Jeongling Liu
Vice President - Kelvin Qin, M.D.
Treasurer - Pingting Lau
Secretary – Ruby Haughton-Pitts
Board Member – Sean Koppe, M.D.
Board Member – Chunkit So
Board Member - Dr. Kim K. Tee
Board Member – Anna Shaw
Board Member – Dr. Airica Steed
---
---
---
Sean Koppe, M.D.
Salina Lee, M.D.
Sheila Wang, Pharm D.
Juliana Chen, Pharm D.
---
---
---
Darren Liu
Steve Smith
Hong Deng, RN
James Yao, M.D.
Yin Kean
Steve Hugh
Alice Shen
Page Gu
Sujie Man
Executive Director – Hong Liu, Ph.D.
Chief Financial Officer - Eugene Chen, Ph.D.
Director of Programs - Allison Precht, LPC, CADC
Director of Community Health Programs- Jing Zhang, Ph.D.
---
---
---
Health Program Manager- Andrew Piotrowski, M.A.
Mental Health Clinical Manager- Melissa Wee, M. Ed, LCPC
Community Health Center Manager - Cuihua Yang
Mental Health Clinical Supervisor - Jonas Ginsburg, LCPC
Navigator Program Supervisor – Frank Li, M.S.
Substance Use Program Manager - Jae Lee, M.A., LPC
Clinical Psychiatrist - Dr. Nina Liu
Contractual Evaluator - Susan Ryerson Espino, PhD
Navigator Outreach Manager - Eric Mo
Navigator - Katherine Yip
Navigator Receptionist/Customer Service - Lisme Leelin
Smart Match Employment Program Specialist - Ricky Lam
Smart Match Employment Program Specialist - Sherry Moore
Smart Match Employment Program Specialist - Charlotte McCann
Employment Training Program Coordinator - Amanda Zhang
Hepatitis B Program Coordinator – Irene Ma
Lead Coordinator for Substance Use Prevention & Gambling Awareness Program - Mimi Tsang
Mental Health Program Care Coordinator – Katherine Wong
Mental Health Counselor- Shaw Xiao, M.A.
Community Engagement Specialist - Jonathan Brozdowski, M.A.
Mental Health Receptionist - Sophie
Tse
IT Specialist - Justin Huang
Executive Assistance - Allison Plyer
Human Resources - Benjamin Adashek
Executive Assistant - Cindy Lee
Social Media Specialist - Frank Li, M.S.
EHR System Specialist-Justin Huang
Corporate Compliance- Christine Tao
---
---
---
Project and Administrative Assistant – Xiaomei Zhang
Administrative Assistant - Zhi Guang Wu
Administrative Assistant - Shao Xin Huang